Until recently, if someone said they work out at home, they usually owned an indoor bike, a small treadmill or a pair of dumbbells. Those times have changed drastically. A well-equipped gym at home or in a larger apartment is no surprise to anyone these days.
This is not only due to the change in our lifestyle. The growing awareness and need society to take care of their health through physical activity also plays a big role.
Whether you're planning a fully functional home gym or just need one machine to lose weight. Cardio equipment is the first thing that comes to mind when trying to shop.
In this article, we will show you the top 3 best selling cardio equipment in our home implementations.
Cardio equipment according to how you train
Choosing equipment is not always clear-cut and should be tailored to your training goal and how you train. Training is also a form of meditation, a break from everyday worries and problems, remember to choose equipment that you like. If you think that running bores you, but you want to buy a treadmill because all your friends have one, we advise you to reconsider your decision. The equipment should serve you, not the opposite.
It may happen that you do some sport as an amateur and you already have a predefined specialization. In this case, choose equipment for what you do. When practicing cycling or triathlon, a good choice instead of a regular stationary bike is to buy a good trainer and plug the regular bike into it, or buy a spinning bike. These will better reproduce the natural conditions you will face during the competition.
So approach this article with common sense and choose equipment with full knowledge of what you need.
Simple cardio equipment for success
The fitness market is constantly changing. The technological solutions are also changing. All this is done so that exercisers can achieve better results in less time, and at the same time do it in the safest and most enjoyable way possible.
Manufacturers of equipment for commercial gyms outdo each other in improving their solutions. From ordinary machines with monitors, workout and entertainment machines have emerged. They are intuitive to use, measure all training parameters, have dedicated training programs and a full entertainment package including the Internet and TV. The only drawback is that these solutions are expensive and often do not fit in the home.
One of the leading trends among cardio machines is AIR technology. These are the so-called gravity machines. They do not use electricity, and the driving force is human muscle power. The lack of advanced electronics makes them practically failure-free. The design of these machines allows you to do complex workouts and burn significantly more calories than on traditional equipment we know so far. The principle is simple, the more you press on the pedals, the more air resistance you produce. The faster you run your legs, the faster the treadmill accelerates. So the intensity of your workout increases exponentially and the only limit is you.
AIR technology is close to our heart. As long time trainers and exercisers we can see huge advantages of this equipment in comparison to classic machines. That's why for this article we have chosen 3 machines among the AIR cardio machines, showing their advantages in faster calorie burning.
Air Bike - the new generation of the stationary bike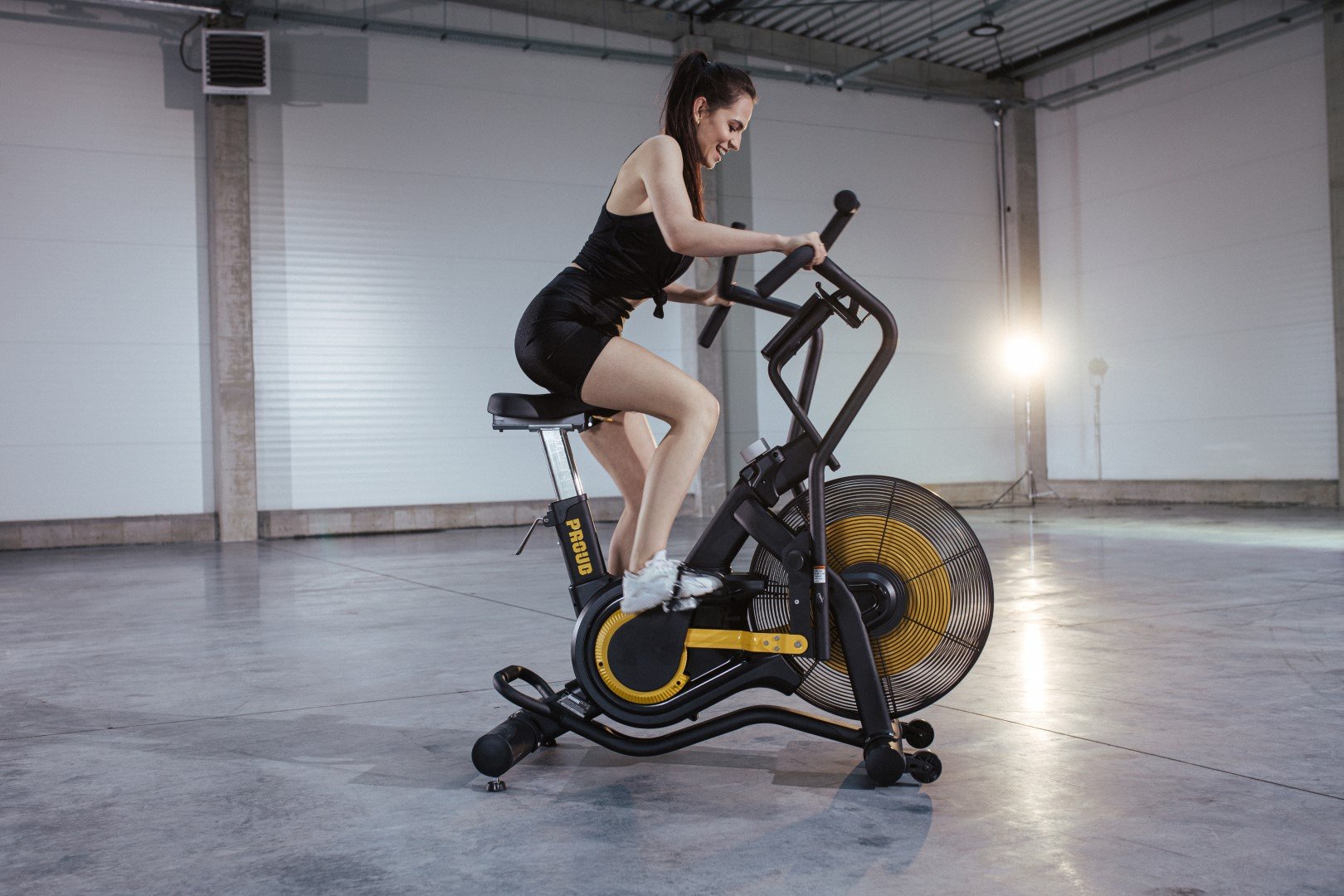 This bike is number one when it comes to home equipment. It is the smallest size product in today's list. It only weighs about 70kg and the wheel system allows even women to move it without any problems. But that is not the most important thing here. Unlike stationary bikes, Air Bike has not only the pedals, but also movable handles to drive the air drum. This design creates amazing possibilities. During the workout we engage both the lower and upper body from the first seconds. This results in burning significantly more calories both in the workout and right after. The effect of high intensity workouts will be much faster than after workouts on a regular stationary bike. Another advantage of this type of training is the so-called "low impact". What does this mean? Short intense workouts burn calories without overloading the muscular system. The body recovers faster and we are able to do more workouts per week.
The only disadvantage of the Air Bike in comparison with a stationary bike is the loudness. Although it has countless advantages, if you have a small child at home, think twice about the purchase.
Air Rower - a full body workout in one device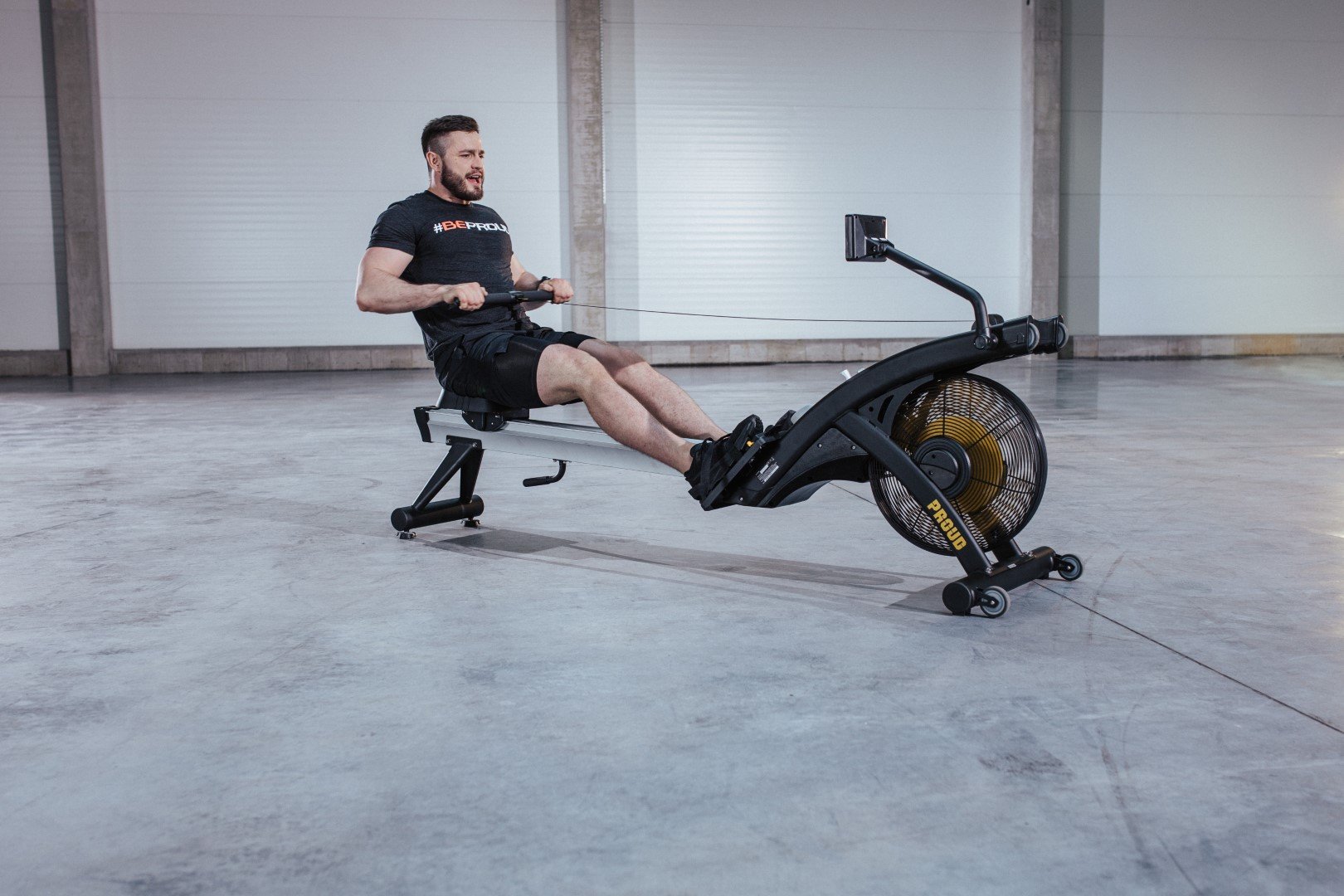 A rowing ergometer is another example of a cardio device where the whole body is engaged. The major change is the definitely different movement pattern as compared to the Air Bike. The calorie burning effect, however, is the same. Both the ergometer and the air bike have a large display and similar work functions. You'll find pre-set workouts (tabata, reverse tabata), and you can also create your own patterns. The display during operation will show you all the workout parameters you need (watts, calories burned, distance, etc.). You can also monitor your heart rate on the screen directly from the transmitter attached to your chest. The ergometer is also very portable and easy to carry. It weighs less than the Air Bike, and when placed upright when finished, it takes up the least amount of space of all the devices in our list. It should be chosen by people who have already had experience with this equipment before. Despite its simplicity, optimizing the rowing motion requires spending a few hours training the technique.
Air Runner - run inside like you do it outside
The gravity treadmill, or so-called Air Runner closes our list of the most popular cardio machines for the home. Why is it in third place? Probably because of its size and much higher price than the previous two machines.
How does the Air Runner differ from a regular electric treadmill? There are many differences, but we will list the most significant ones. As we mentioned earlier, the drive and acceleration of the treadmill by muscle power plays a key role in burning more calories. When exercising, we don't have a constant pace at which the treadmill runs. This forces us to have more control over our running. By not having a steady pace, we are forced to work and stabilize our postural muscles more. This all adds up to an even more reminiscent run that we do outdoors in the field. The Air treadmill also has a curved running belt unlike the normal one. It largely eliminates strain on the joints and forces the natural positioning of the foot while running. Air Runner is not only a treadmill for running. It has a magnetic resistance running belt and special hand grips. This allows us to imitate the training of pushing and pulling a sled with a load.
Summary
When choosing cardio equipment for your home you should think about what purpose you want it to serve. Simple and failure-free solutions are the best, an interesting trend nowadays is Cardio Air - motorless machines powered by air. It is worth choosing proven machines such as bikes, ergometers or treadmills. Gravity cardio has a number of advantages, making them a better choice for your home gym.